In a normal year, PPC marketing is pretty unpredictable. But 2020 was anything but a normal year.
Last year, no one Could or wouldn't have predicted that we would deal with the impact of the ongoing pandemic throughout 2020.
Instead, our PPC experts were busy talking about trends like automation, audience targeting, and privacy.
Hopefully, 2021 has won don't throw so many curves at those of you who are doing PPC advertising and paid social media.
Before we begin with what are the PPC Trends of 2021 are, let us start with knowing what PPC is for a better understanding.
What is PPC?
PPC, which stands for pay-per-click, is an online advertising model where advertisers run ads on a platform such as Google Ads and pay a fee every time someone clicks on it.
Run almost any search on Google (or Bing), and you will see ads displayed at the top of the results page.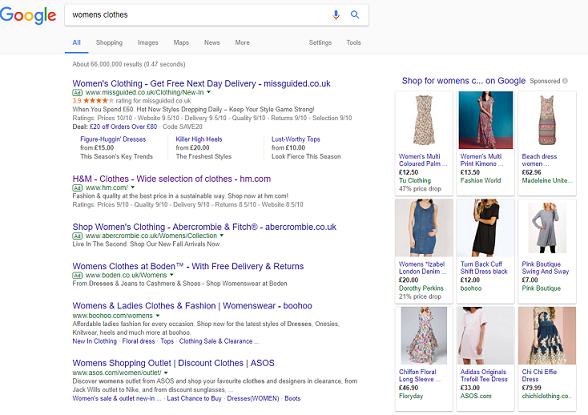 See the product grid to the right-hand side? They are also ads that show when a search has a commercial intent.
Businesses use PPC to drive traffic, sales, or inquiries from their target audience. Common PPC platforms allow an outstanding depth of targeting, meaning that you can serve ads in front of those only who you deem to fit your customer demographic.
Search engines are the number one way that people look for suppliers of both products and services, and when there is an active audience looking for what your business offers, there is an opportunity to make a sale.
PPC can help you get in front of these people with a precise level of targeting that traditional advertising doesn't allow for.
Want to target someone who lives in San Francisco who is looking to buy a used Ford Mustang? Easily done.
PPC offers you an opportunity to reach your audience at a time when they are looking for a business like yours while gaining data insights to help you improve the efficiency of the channel over time.
Paid advertising is big business, and it is reported that the Alphabet (Google) alone earns more than $162 billion per year through their ad platforms.
How Does Pay-Per-Click Advertising Work?
PPC as a marketing channel covers several different ad platforms. And within each of these platforms are different ad formats, including:
Search Ads
Shopping Ads
Display Ads
Video Ads
Gmail Ads
Most commonly, you will find that businesses start their PPC marketing on Google Ads, for the simple reason that it gives access to the largest audience of potential clients and customers, as well as many different ways to set up and run campaigns depending on your goals.
But regardless of the platform and ad format, the way that PPC works remain largely unchanged, and it is a pretty simple process.
It is fairly straightforward and easy to get to grips with, and while there are differences between different ad formats (and other bidding strategies that can be used, as an example), the main principles remain.
But let's take a look at the top PPC trends for the next year!
So what will be the top PPC trends in 2021?
Here are the top 5 PPC trends you need to know for 2021 – from paid search to paid social media, to remarketing and beyond:
1.Automation of PPC
Automation in PPC has helped in saving not just our time and energy, but a massive amount of savings too!
Automation means using AI and Machine Learning (ML) to help reduce labor when it comes to tasks with Google. With automation tasks like identifying the best ads, find the right CTA, calculate and suggest the best bidding strategy, check the performance of the account, enhance CPC, and generate conversions.
However, it is already going through experiments and learning, which is going to help us in the smooth application of campaigns.
2.Voice Search Optimization
By now, most of our searches are voice-based.
Our work is dependent on talking to Siri, Google, Cortana, or Alexa, more than actual human beings. But how does that affect PPC?
Voice search is optimized to work best with cellphones, which gives the people a relatively more amount of exposure to the audience as everybody owns a cell.
Because the keywords are in spoken language, they are simple keywords or, most of the time, question phrases. It helps in keeping it simple when it comes to communicating our products or services with the audience.
4.Audience Targeting
The oncoming new PPC trend will be targeting audiences. With Google ads and other platforms now, we can easily target audiences. These features allow you to focus on specific information like age, gender, income, etc. We can even set a target for audiences that should be excluded from our target market.
With Google ads, we can target keywords and demographics together. It helps in reaching the audience directly who need our product/service without wasting resources on those who don't.
5.More platforms are coming in for PPC
As earlier, only search engines were the leading site for PPC to work. But now, with the advent of realms of technology and people being aware of their needs and where to get their products, niche platforms are also using PPC to target specific segmented audiences.
The alternative platforms used for PPC are:
Amazon: Amazon is one of the most popular and flexible platforms when it comes to e-commerce. It has the third-largest and fastest-growing platform called Amazon ads. With Amazon, you don't always have to be a seller. You can just direct them towards your website through the right Call-To-Action (CTA).
Quora: Quora provide the advertisers with the benefit of contextual targeting, which helps them check users' behaviors and activity to make a lasting impact on them.
LinkedIn: The up and coming runner in the new alternate for PPC Platforms is LinkedIn too.
We've only just gotten started!
There will be a lot more PPC trends to discover in 2021. We will keep you posted, don't worry!
Do you need an ad network that allows you to work with the best publishers and advertisers? Join us on this journey to success and accomplish incredible results.